I think that you will agree if I say that it is interesting to know how sunken soviet submarines, naval ships, takers and even aircrafts were raised from the bottom of the sea. And who of you is aware of the fact that explosives and shells at shallow depths near Liepaja would be enough to irreparably destroy the part of the city of Latvia? You are welcome to get information on such and other facts at the museum of legendary Latvian company ASPTR specializing in underwater rescue and recovery services.
Alexander Dadukin created the museum exhibiting showpieces and photos, each having its own history worthy to write an interesting novel or a story!
Before you enter the museum, we offer some historical facts to your attention. The aforesaid company continues the traditions of Expedition Detachment of Search & Rescue and Special Underwater Operations (abbreviated ASPTR) based in Riga from 1956. Since 1992, the coastguard service of the NS of Latvian Army has been engaged in rescue of people and ships and company ASPTR has been dealing with underwater operations; ship repair; cleaning of water area and ports and many other aspects. Professionals hold ship inspection certificates issued by six classification companies, including well-known English Lloyd Register and Russian Maritime Register established by Peter the First.
Alexander Dadukin showed interest in underwater operations from the 60-ies of last century. Before doing military service, he entered the diving school where he got basic knowledge on diving. Having finished the school, he was employed as a rescuer at one of Riga life-saving stations till 1970. In the army, Alexander Dadukin was a member of the diving troop, after which he was employed by Riga ASPTR, to which he dedicated all his life. While working at ASPTR, Alexander Dadukin participated in many risky and interesting operations like rescue of people and ships, liquidation of tanker and dry-cargo vessel accidents, raising of sunken ships, etc. Each such operation remained memorable at least a little bit and after many years he had plenty of recollections. This is the reason why Alexander Dadukin decided to share his memory, showing wonderful underwater findings to you.
Gifts of the Kingdom of Poseidon
Guests can see and comment on the underwater life and the work of professionals showed at the museum. There are plenty of visitors who are in raptures over examined exhibits for a long time. Our guide told us that once a local postman, found himself at the museum for a moment, asked whether it was possible to invite his son's classmates to show them mysteries of the underwater world. Why not? Fifty schoolchildren came. When boys saw the exhibits, divers noted: "Such excursion will last for at least two hours!" Sometimes telephone engineers or sanitary technicians coming at call forget out and away the purpose of their visit and wonderingly examine findings of divers.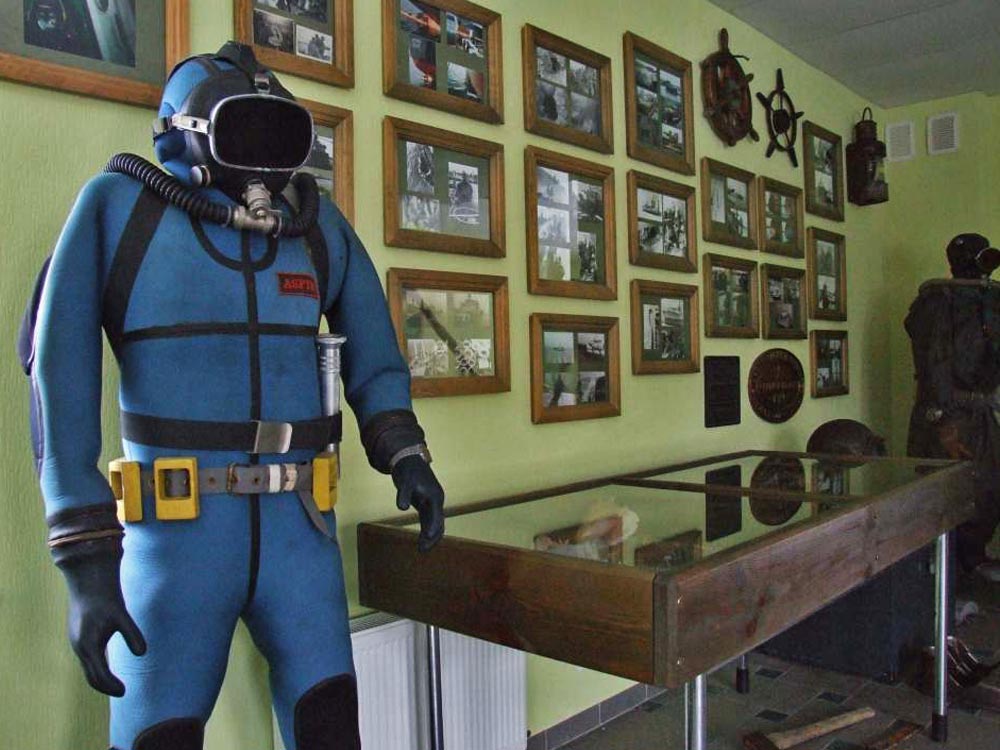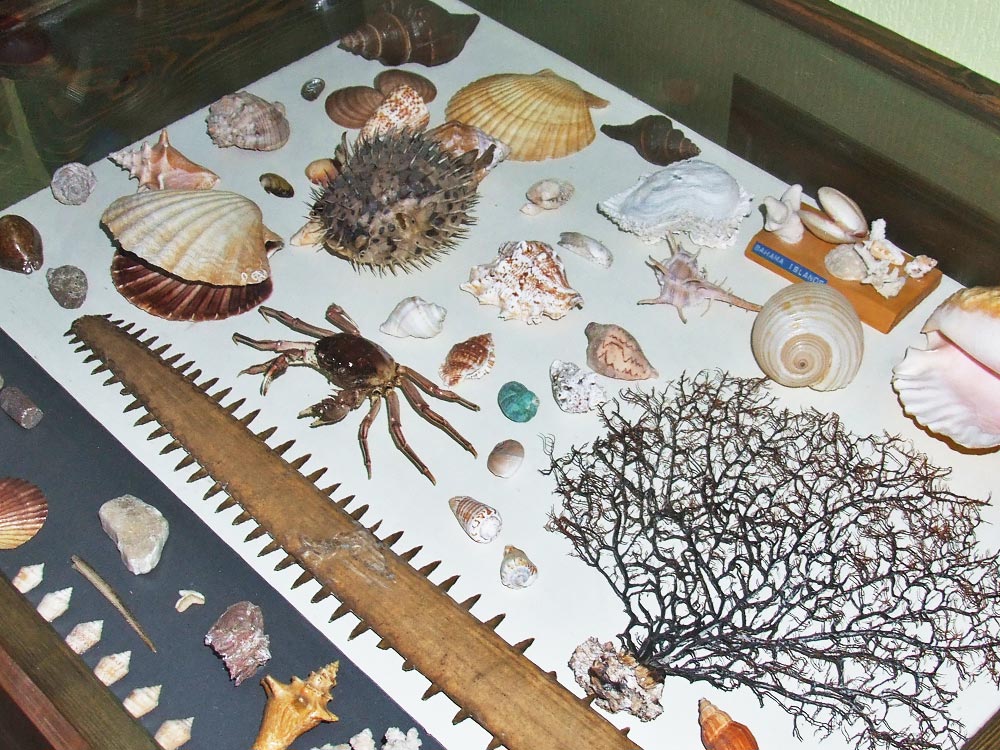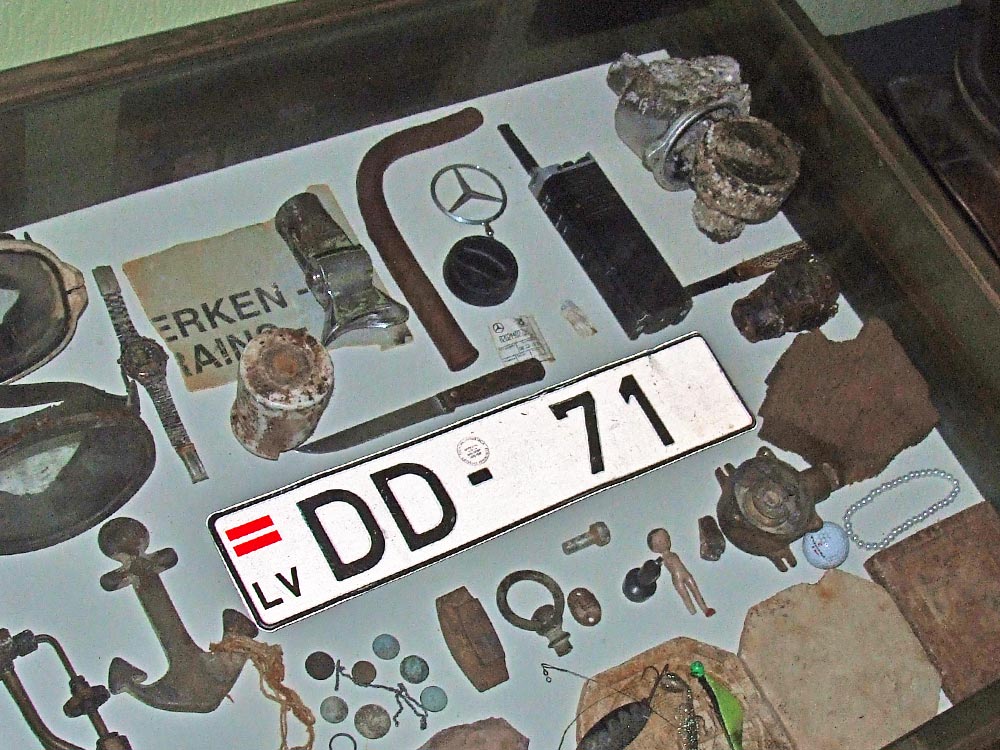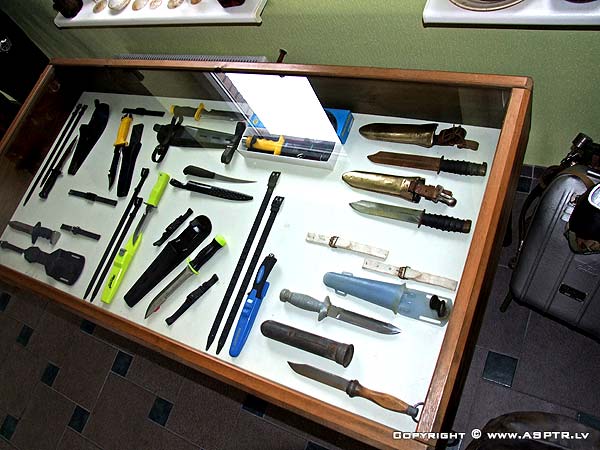 Many interesting things can be found at the bottom. For example, I discovered shells non-typical for the Baltic Sea. Watches, radio stations, fouled bottles, plates and even German crockery with swastika. Glasses of fanciful forms created by wave-designers… How rich the Kingdom of Poseidon is! Please have a look at strange grey pieces of stone got from the sea bottom. According to scientific discoveries, those are pre-historic worms, being more than one million years old.
Next collection under glass comprises diving knives found by Alexander Dadukin during the soviet period. Next to it – the collection of weapons of war (surely not operable) got by divers from the sea bottom during deep-water operations: for example, cartridges from the First World War, 205 mm shells dating back to the Second World War…
Regarding this fist-cartridge, we found it along with the bombshell, however it started suspiciously spitting, so we quickly threw it into water – Alexander told, pointing to the long rusty barrel. All sea bottom in Liepaja is a large weapon warehouse. Once our team in cooperation with Liepaja diving company surveyed the 5th berth at the port leased by Danes and within the 10-meter wide area we managed to find 116 models of various weapons: shells, bombs, rockets with explosives weighing three tons net of metal. We surely delivered all such items to land guards on the basis of relevant certificate.
And now I will tell you what practically nobody knows. Do you see photos? – the diver asks, showing several glass-framed photos. – We found IT in Liepaja near the Northern breakwater pier. The ship filled with shells and dynamite cartridges is still at inconsiderable depth about one hundred meters from the sea shore! Please imagine: there are more than 250 205-mm shells (what we managed to see) there. Unexploded! If somebody decides to explode them, the Northern breakwater pier will have new gates and windows of buildings at Liepaja military camp will be broken with buildings hardly remained undestroyed. We offered our services related to raising objects and clearing water area to military men, police and municipal officers, however nobody wanted to deal with dangerous heritage of the past; we even managed to video record such underwater findings…
Your author asked the diver whether he had found chemical weapons sunken 65 miles away from Liepaja. Alexander answered that he did not look for the weapons, however he often saw signs of mustard – hollow ulcers on eel and codfish!
Once divers got torpedo elements from the Black River in Liepaja. Divers delivered the findings to land guards who took them to the drill ground and exploded there. Nobody expected such explosion: windows were broken at Liepaja disposal works within one and a half kilometer area! The person responsible for such operation was near to disqualification…
You can see a rusted through star will traces of red paint that is screwed on the wall. Divers got it from the minesweeping ship raised from Liepaja sea bottom. The ship was very strange – it had no magnetic parts (even anchor had no magnet reaction!) Minesweepers built it so as not to react on magnetic mines.
Tanker is not a submarine!
Interesting exposition – specialized heavy diving equipment intended to go along the bottom with heavy objects and 12-kg boots on and not to swim underwater. This is equipment used by professionals for deep-water operations. Here is the photo depicting team of divers raising tanker Ludwig Freedom from the sea bottom. In 1985, spark-produced explosion of fuel vapor took place on board a ship (the new one just from the dockyard) leading to death of the crew…
Can't you imagine that half of the 200-meter vessel deck exploded, turning back… At the bottom, we divided the tanker into 400 ton fragments and raised them by the high-capacity crane Vitiaz ordered from Saint-Petersburg. On the shore, fragments were broken up to produce scrap metal – Alexander recalls.
In the corner, you can see a historical photo. It depicts torpedo 4-screw, 4-motor missile boat (it was a heavy user of petrol, however "flied" quicker than bird!). ASPTR professionals raised it for the boss of Pardaugava mafia. He decided to transform it into the cruising launch, however, did not manage to do so. Next to it – color photos of water bus, which was raised by professional divers from the bottom as requested by Parex Bank. It is amazingly that such river bus turned to be in good technical order.
We raised many ships – the diver said. Since 1956 – divers of the ASPTR raised about 60 ships and I raised several dozens of ships. It was much easier to lift last three soviet submarines from the sea bottom in Daugavgriva than tankers. They are not so terrible "water-drinkers" as tankers even if sunken.
From ecologists to cinema-men
Riga divers are often invited to other countries situated along the Baltic shore. Once ASPTR professionals were involved in operation in Lithuania related to the helicopter fallen into Platiliai Lake. Divers had to urgently liquidate consequences of oil spill.
We used special biological absorbents. Oil was covered by special granules absorbing poison-bearing film. Granules contained oil-fed bacteria, after which non-active substances – heavy resins sank out. Such work is not complicated, however too responsible. We really had bad time in Butinge when we repaired waste collector for the floating terminal. We replaced under water half kilometer of the pipe of diameter of a bit more than one meter!
Biologists actively used ASPTR services as well. During the soviet period, ASPTR cooperated with the Fishery Institute of LSSR: helped in scientific and research activities. Divers gathered samples of underwater plants for the scientists to research how the Baltic Sea environment is favorable for development of herring. The Institute had a wide-scale and interesting program for creation of artificial spawning grounds. Within Pape area, divers built artificial concrete banks for development of plants where herrings deposited eggs.
The museum has so many exhibits … There are photos of dummy Mercedes professionally created on the basis of Volga from Riga Film Studio next to the photos depicting operations related to raising vessels. Such transformations were made for Depression 2 film shooting according to which the car flied from the bridge into the river. It is clear that during the soviet period, nobody wanted to bury real Mercedes. And ASPTR specialists had to raise the requisite from water…
These are certainly not all exhibits. We try to show everything. However, there will be not enough space for full arsenal, – Alexander noted. We created the museum not only for the good of our souls (however, it is the main purpose). The reason is to help people become familiar with diver's work and history of ASPTR company.
Igor MAIDEN